Back Home
The best hiking spots in and around Orlando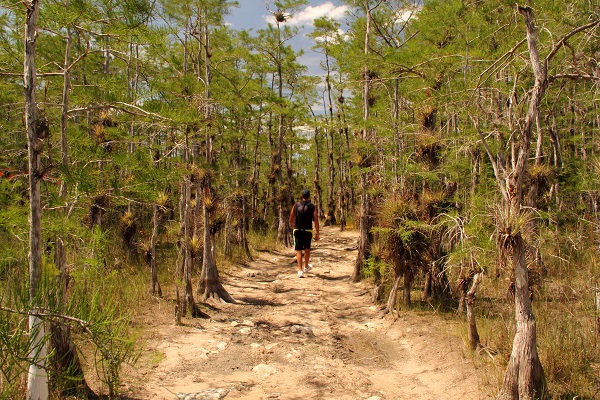 Orlando and its surrounding area is home to a vast selection of unique outdoor destinations from parks along serene lakes, historic neighborhoods under a canopy of ancient live oaks, and a growing network of scenic paths stretching across the entire region.
If you'd like to spend more time outdoors, one of the most enjoyable activities is exploring some of the area's many hiking trails. These trails are perfect for leisurely nature walks to more challenging day-long excursions. Below are some excellent trails for you to check out:
Bill Frederick Park
Location: Orlando
Length: 2.1 miles
Difficulty level: Easy
Also known as Turkey Lake Park, Bill Frederick Park is Orlando's most expansive park, covering nearly 180 acres. It's a favorite destination for many outdoor enthusiasts, with its wide array of features, including multiple fishing piers, a swimming pool, two 18-hole disc golf courses, camping grounds, large picnic areas, and more.
Hikers can explore the park's natural-surface nature trail, which takes up the entire length of the park along its western border. There's also a paved path designed (but not restricted to) bikes, which you can also explore for a 2.4-mile walk.
Harry P. Leu Gardens
Location: Orlando
Length: 3 miles
Difficulty level: Easy
Orlando's Leu Gardens is a perfect destination for those looking for a relaxing, laid-back stroll amidst picture-perfect scenery. The lush gardens, which cover approximately 50 acres, are located along the beautiful shores of Lake Rowena, creating a gorgeous display of natural diversity. Leu Gardens is home to the largest camellia collection in the US outside California, as well as the largest formal rose garden in all of Florida.
Here, nature lovers can soak in the refreshing views by exploring a three-mile network of paths traversing its many lush gardens and spacious natural areas. Some of its many features include a butterfly garden, a tropical stream garden, and an area completely surrounded by bamboo, palms, and cycads.
Bear Creek Nature Trail
Location: Winter Springs
Length: 0.9 mile
Difficulty level: Easy to moderate
Bear Creek is ideal for those looking for an easy day of exploration on sandy bluffs covered by a densely shaded wooded area filled with soaring oaks, palms, and ancient cypress. Be aware that the path isn't well-marked, but the area's relatively small size will keep you from getting lost.
Disney Wilderness Preserve
Location: Poinciana
Length: 1 to 2.5 miles
Difficulty level: Easy to moderate
Encompassing over 12,000 acres, the Disney Wilderness Preserve was purchased by The Nature Conservancy in order to restore habitats that were wiped out due to Walt Disney World's construction.
Trekkers can look for the education center and walk along the sidewalk past the butterfly garden until they reach a trailhead kiosk right beside the pond. The start of the trail offers a breathtaking view of the pond surrounded by smooth cordgrass and American lotuses floating on its surface.
The succeeding path offers equally picturesque views, with captivating scenery consisting of longleaf pine savanna and cypress domes and strands stretching out high above the ground.