Back Home
Orlando's Scenic Parks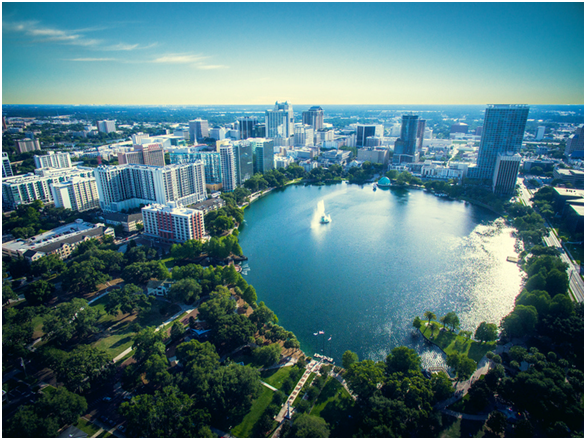 Discover the delights of Lake Eola Park.
Relax, have a picnic, and take a break from the city's daily hustle and bustle. Here's a list of some of the most beautiful parks and recreational areas in Orlando for you to enjoy with family and friends.
Lake Eola Park
512 E Washington St., Orlando

Lake Eola Park is a beautiful oasis located right in the heart of Downtown Orlando. It's a great place to unwind and enjoy outdoor fun and relaxing recreational activities.

The scenic mile-round park is perfect for running and walking. Plus, there are restaurants and cafés around the park when you get hungry.

At night, the park's famous fountain features beautiful color-changing lights for a mesmerizing display. Visitors can head over to the Walt Disney Amphitheater on the west side of the park to catch great shows and events at an affordable price.

Park goers can feed the swans and other birds that dwell in the park. You can also hop into one of the park's famous swan-shaped paddle boats. There's a playground for the kids as well.
Loch Haven Park
777 E Princeton St., Orlando

Nestled between Lake Estelle, Lake Formosa, and Lake Rowena, Lock Haven Park serves as the premier cultural center in Orlando. It encompasses 45 acres of beautiful open space and is home to a large number of the region's finest cultural destinations.

Surrounded by lakes, the park offers some of the most scenic lawn areas in the city and is shaded by impressive oak trees. The wide open areas are peaceful and perfect for picnics and recreational activities. There are beautiful sculptures throughout the area to complete the downtime experience.

Loch Haven Park's cultural centers include:


Mennello Museum of American Art
Orlando Shakespeare Theater
Orlando Repertory Theater
Orlando Museum of Art
Orlando Science Center
Orlando Fire Museum
Orlando Garden Club
Orlando Ballet

Tibet-Butler Nature Preserve
8777 Winter Garden Vineland Rd., Orlando

One of the top-rated outdoor adventure spots in Orlando, the Tibet-Butler Nature Preserve is the ideal place for city dwellers to reconnect with nature.
Less than 30 minutes west of Downtown, it features up to six scenic hiking trails surrounded by cypress woods and marshland. The trails are well maintained and marked for easy navigating.

The area is great for bird watching and there's a wide variety of beautiful plants and animals to see as well. The park's nature center offers clean bathrooms and is a venue for activities and classes for kids.

Entrance to the nature preserve is free.


Dickson Azalea Park
100 Rosearden Dr., Orlando

Tucked away along Robinson Street in Northeast Orlando, the Dickson Azalea Park is a beautiful tropical oasis just 10 minutes away from downtown. Named after the beautiful flowers business pioneer and city leader Col. H. H. Dickson propagated throughout the city in the late 19th century, the park is a haven of lush trees, well-kept trails, and picnic areas. There are many interconnected pathways and wooden bridges along the scenic creek.

At the heart of the park you'll find the iconic Washington Street Bridge, a historic structure built in the style of beautiful South Florida architecture.

This hidden gem has also been a venue for weddings.